Every spring and every Fall West Of puts out our semi-annual Cookbook Issue. Essentially it's a food-centric issue that is a kind of cookbook, with recipes, cooking tips, and ideas from local chefs and food purveyors. There is always a theme of some sort and recipes that go along with that theme, whether they be breakfast, soups, salads or seafood.
The 2017 Spring Cookbook is a little different than normal. With the first full season of West Ashley's Farmers Market just getting under way, we went to the vendors of the Market and asked them to create something using their product as well as other things they found at the market. Less of a recipe issue, this installment of the West Of Cookbook is more of a glimpse of the kind of things offered at the local Farmers Market as a well as showcase of the creativity of these vendors.
We gave each of the seven participants $25 and let them be creative with what they made. There were no other guidelines other than they had to feature farmers market fare in their dish. While they could add other ingredients that were not found at the farmers market, the star of the show had to be things they found at West Ashley's Farmers Market, which is held 3-7 p.m. every Wednesday at Ackerman Park at 55 Sycamore Road.
The end results were nothing short of stunning — from a Caprese roasted chicken by Porzio's Pizza & Pasta Sauce to a Caprese ravioli with pesto chicken and roasted tomatoes by Rio Bertolini's Fresh Pasta; from
cheese and chourico sausage biscuits by the Charleston Spice Co. to chourico breakfast tacos by Mitla Tortillas; from a Panzanella salad with tomatoes by EVO Pizzeria & Bakery to a tomato pie from Sea Island Savory Pies and a Crispy Mediterranean Wrap by Veg Out.
Every participant met the challenge with the same passion and creativity that they put into their own business, showing us how a simple trip to the West Ashley Farmers Market can open a whole world of possibilities in your kitchen.
Caprese Ravioli with Pesto Chicken & Roasted Tomatoes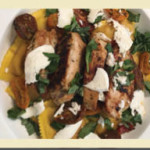 Rio Bertolini's Fresh Pasta
1028 Wappoo Road
www.riobertolinispasta.com
Farmers Market Shopping List
• 12 Rio Bertolini Caprese ravioli, prepared to package instructions
•  1 or 2 chicken breasts
•  1 cup multi-colored cherry tomatoes, halved
•  1/2 cup pesto, split
•  Salt and pepper
•  Fresh basil and mozzarella for garnish
Here's a fast, summer-friendly recipe from West Ashley's best pasta shop, which has moved into the old Crull Hardware store complex. Soon will come a retail spot in the building, and then the bulging mouths and waistlines. Their variety is only matched by their taste.
• Preheat oven to 400 degrees.
• In a bowl, toss halved tomatoes in ¼ cup of pesto with salt and pepper to taste.
• On a greased baking sheet, lay out tomatoes with the insides facing up. Roast in oven for 30 minutes.
• Prepare the chicken breasts by cutting in half horizontally, so you have two thin breasts. Brush with remaining pesto and salt & pepper.
• Pan-sear chicken on medium heat for 10 minutes on each side. Once cooked through, slice chicken into thin strips.
• Layer ravioli with roasted tomatoes and sliced chicken, then garnish with fresh basil and mozzarella. Enjoy!

Scrumptious Cheese & Chourico Sausage Biscuits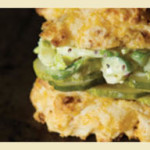 Charleston Spice Co.
1969 Central Park Road • James Island
843-830-1004
Farmers Market Shopping List
• cheddar cheese from Wishbone Heritage Farms
•  chourico sausage from Wishbone Heritage Farms
• Schuler Farms' strawberries
• Greek Yogurt from Fili-West Farms.
Charleston Spice Co. has the cat-bird's seat when it comes to hitting the West Ashley Farmers market. Because they have a table there every week!
That's given Caitlin Tuten-Rhodes plenty of time to peruse the other stalls and pick what inspires her and combines best with their own products.
Starting with her basic "go-to" drop biscuit, Caitlin headed over to the Wishbone Heritage Farms table and scored some aged cheddar cheese and chourico sausage. The sausage, she says, has a "sultry flavor and warmth."
Stuffing the biscuit with market cukes-turned-pickles made with the Spice Co.'s Savory Pickling Blend, Caitlin then layered in some Brussels sprout and cucumber slaw, tangy-ed up with a splash of vinegar and "a bit of horseradish mustard that we made with our Horsey Mustard Blend!"
Because every meal should have a little something sweet, she had already sprinkled a little of their Ginger Sugar on some Schuler Farms' strawberries before starting on the biscuits, and let them get nice and juicy. Then she threw the berries on some Lowcountry Creamery Greek Yogurt from Fili-West Farms. 

Breakfast Tacos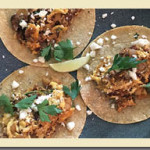 Mitla Tortillas
2578 Ashley River Road
(843) 300-1345
Farmers Market Shopping List
• Wishbone Farms Eggs & Chourico
• Charleston Artisan Cheesehouse Chardonnay Wash
• Mitla Corn Tortillas
Recipe
1. Break open chourico and sauté in skillet
2. Add eggs and scramble over low heat
3. Heat corn tortillas in dry skillet
4. Fill with eggs and sausage mixture
5. Top with cheese
During a trip to Mexico, West Ashley resident Grace Newland had the first corn tortilla she ever truly liked at a local's home near San Cristobal de las Casas, Chiapas. These corn tortillas were made using a traditional cooking called nixtamalization, where dry corn is cooked in lime and ground into fresh masa creating pliable tortillas with a distinct corn taste. While in Oaxaca, Mexico Newland enjoyed fresh flour tortillas that were unlike anything she's gotten at home.
Newland says she couldn't shake the memories of authentic tortillas in Mexico and was unhappy with the ingredients used in big brand tortillas. This is why she started Mitla Tortilleria in March 2015, bringing a cleaner tortilla to the market.
After many restaurant jobs (including a Mexican restaurant) and an eight-year career in public relations, Grace Newland realized she wanted to do something different and drew inspiration from her travels to Mexico and Latin America. The company name was inspired by a ruin outside of Oaxaca called Mitla, the second most important archaeological site in Mexico. The ruin's walls are adorned with intricate geometric patterns, which Newland incorporated into Mitla's logo.
Newland began selling tortillas at Lowcountry farmers markets, including West Ashley every Wednesday and opened a wholesale shop in March 2016. "We received Organic Certification through Clemson University in April 2017 for our corn, flour and whole wheat tortillas," says Newland
For her Farmers Market Challenge, Newland made breakfast tacos with her organic Mitla corn tortillas and Wishbone Farms Eggs and chourico (Portuguese chorizo), topped with Charleston Artisan Cheesehouse Chardonnay wash.
"I had house guests for a wedding this weekend, so I decided to get ingredients for breakfast tacos. A simple and quick meal for adults and kids," says Newland.
Panzanella Salad with Tomatoes


EVO Pizza & Bakery
1075 E. Montague Ave. • North Charleston
843-225-1796
Farmers Market Shopping List
• Spinach from Freeman's Farm
• Strawberries and a watermelon from Gruber Family Farm
• Buttermilk and Greek Yogurt from Fili West Farms
• Yellow Tomatoes and Sweet corn from Robert Fields jr Farm
• loaf of bread from Evo's own bakery
EVO's Matt Connelly took his family to the West Ashley Farmers market and found it to be "great" with competitive pricing to boot.
"There was so much fresh produce to choose from," said Connelly, who runs a farm-to-table outfit in North Chuck. "It was an amazing market and the prices were very competitive."
His shopping list included fresh spinach from Freeman Farm, strawberries and a whole watermelon from Gruber's, buttermilk and Greek yogurt from Fili West Farms, tomatoes and corn from Robert Fields, Jr. Farm.
Connelly combined those ingredients with a loaf of bread from EVO's bakery, which also has a table at the market.
"I wanted to use as many fresh, colorful ingredients that I could," said Connelly. "At EVO, we make a great black pepper-buttermilk dressing and also a wonderful Greek Yogurt vinaigrette. I used the two recipes and the dairy from Fili farms to make the dressing for this spring panzanella salad."
When Connelly thinks of "panzanella" salads, he thinks of perfect bread and tomatoes. "Our bakers at EVO have the bread thing mastered and with the yellow tomatoes from Robert Fields farms I had both of those bases covered.
"The strawberries and the watermelon were just too bright and tasty to pass up and the green spinach added some great flavors and color to this spring panzanella salad."
Crispy Mediterranean Wrap


Veg-Out
1969 Central Park Road • James Island
(843) 364-3814 | vegoutcharleston.com
Farmers Market Shopping List
• Mitla tortilla wraps
• Charleston Spice Co. herbs
• Nano farms tomatoes and lettuce
• Olives
• Feta Cheese
• Olive Oil
• Tzatziki dipping sauce
Charleston native Holly Dyar graduated the College of Charleston in 2006 with a degree in marine biology. But she has found a niche here on land with her vegetarian-friendly food delivery company Veg-Out, which she started last year.
"I became a pescatarian at the age of 14 and haven't turned back," says Dyar. "After having my daughter in 2015 I needed quick meals on the table. My days of extravagant cooking were over for now. Being mostly vegetarian (seafood once in a while), I couldn't find anywhere that delivered healthy, 'real food.' So I created Veg Out."
Once a week, Dyar creates premade meals available for delivery or pick up at the West Ashley farmers market. All you have to do is reheat
and serve. "I incorporate local produce when possible, and can alter meals to accommodate Vegans," says says.
For her Farmers Market Challenge, Dyar created a Crispy Mediterranean Wrap, with homemade tortillas from Mitla tortilla wraps, herbs from Charleston Spice Co., and veggies from Nano Farms.
Tomato Pie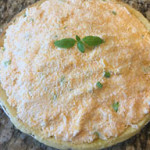 Sea Island Savory Pies
1969 Central Park Road • James Island
(843) 377-6178
Farmers Market Shopping List
• Tomatoes from Gruber Family Farm
• Onions from Gruber Family Farm
• Scallions from Gruber Family Farm
• Shredded cheeses from Charleston Artisan Cheesehouse
• Sea Island Savory Piecrust
• Salt, pepper & mayonnaise
Sea Island Savory Pies was created in fall of 2016 as an offshoot of chef Krista Kanapaux's In Season Catering, which has been in business on James Island since 2007. With Kanapaux's culinary background, she says the pies were just a fun outlet in the kitchen. But the pies have really taken off in the last year, especially at local farmers markets, like Nano Farmers Market, Johns Island Farmers Market, and the one in West Ashley, where you can find them every Wednesday. Kanapaux says they can also deliver to your house, free of charge if local.
"With only 8 months under our belt, we are proud of where we are already. We sell at the West Ashely Farmers Market," says Kanapaux. "We value our consistent customers." Kanapaux works hard to give you the comfort food you probably had growing up, but then puts a creative twist on the favorites, with innovative pies, such as Pig N' A Pie, Taco Pie, and Creamy Shrimp Scampi.
"I couldn't do this without my supportive husband Marc, who gives me the freedom to just cook and make tummies happy all over Charleston," says Kanapaux, who is proud to work with many organizations in
Charleston, from The Hollings Marine Lab, NOAA, Aging in Place, Stasmayer, BCDCOG, to several pharmaceutical companies.
"We try to use as many locally sourced ingredients as possible," says Kanapaux. Sea Island Savory Pies two biggest sellers are tomato pie and crab pie. Kanapaux made a tomato pie with her Farmers market Bounty, with fresh tomatoes, scallions, and onions from Gruber Family CSA Farm and shredded cheese from Charleston Artisan Cheesehouse all housed inside a delicious homemade pie crust from Sea Island Savory Pies.
For dessert, Kanapaux used fresh strawberries from Shuler Peach Company and made a strawberry pie.
Caprese Roasted Chicken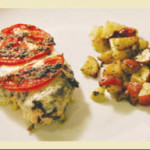 Porzio's  Pizza & Pasta
www.Porzios.com
Farmers Market Shopping List
• Chicken breasts from Fili-West Farms
• Italian Herb pesto
• Fresh cheddar curds from Charleston Artisan Cheesehouse
• Tomato from Freeman's Farm
It could be said this recipe started more than 120 years ago in Naples, Italy, because that's when the family namesake left the old country and came to Savannah to open its first pizzeria. The locally handcrafted sauces now put out by the company is a mainstay at Lowcountry farmers markets and restaurants.
The company also boasts products like  fresh basil pesto, no sugar added ketchups & condiments, and shelf-stable diced heirloom tomatoes.
Porzio's decided to combine their Italian Herb Basil Pesto with pre-trimmed, all-natural, pasture raised chicken breasts from Fili-West Farms and laid them on a sheet pan. Then after slathering a heaping spoon of the Italian Herb pesto on each breast (a little bit goes a long way!) and a few (or more) fresh cheddar curds from Charleston Artisan Cheesehouse, they topped it all off with a few slices of a juicy tomato from Oliver & Sandra Freeman Farm.
Amazing when grilled, but rain forced the dish into the oven where they were roasted for a half-hour until they hit 165 degrees internally. As a bonus, roasted red potatoes were tossed in more of the pesto. The chicken comes out juicy and infused with flavor.
Tasty and timeless!